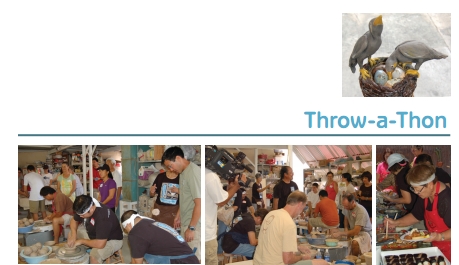 Throw-a-Thon coordinator: Cindy Chaponot
sjlkenjoinc@hawaii.rr.com

Ten competing potters made 750 bowls in an hour and a half for
Empty Bowl Hawai`i 2011. HPG provided backup for these dedicated and talented potters by making sure they had everything
they needed, wedging clay, moving bowls from wheels to drying
areas, trimming, glazing and firing.



Congratulations to Jeff Chang who threw 149 bowls and walked away with the Alan Wong Gift Certificate as well as to all the 'super throwers' who participated and we rewarded with a famous HPG potluck lunch.


MAHALO to everyone who helped make the
Throw-a-Thon a glowing success.

2010 HPG Empty Bowl Throw-a-thon - Aaron Padilla
http://www.youtube.com/watch?v=UgNhevWA-2c

2010 HPG Empty bowl Throw-a-thon - Steve Martin
http://www.youtube.com/watch?v=qtE9dWSeVaU

2010 HPG Empty Bowl Throw-a-thon - Ramon Camarillo
http://www.youtube.com/watch?v=HGVrMclejP4

2010 HPG Empty Bowl Throw-a-thon - Charles Patten
http://www.youtube.com/watch?v=tJDMxU_AdIc

2010 HPG Empty Bowl Throw-a-thon - Marie Kodama
http://www.youtube.com/watch?v=nlGAiT_YTs8

2010 HPG Empty Bowl Throw-a-thon - Jeff Chang
http://www.youtube.com/watch?v=3OaWhmXMswo

2010 HPG Empty Bowl Throw-a-thon - Jon Vongvichai
http://www.youtube.com/watch?v=V_ZlL2_K_BY

2010 HPG Empty Bowl Throw-a-thon - Mario Motara
http://www.youtube.com/watch?v=21XsYbO6Ro8

2010 HPG Empty Bowl Throw-a-thon - Bob McWilliams
http://www.youtube.com/watch?v=5taRWyUB_48

2010 HPG Empty Bowl Throw-a-thon - Daven Hee
http://www.youtube.com/watch?v=Tu8amQw8KcU
---